5 tips for choosing the right health plan
Looking for a health plan for yourself or your employees can be overwhelming due to the hundreds of options available. To help you choose the best plan it's important to understand some of the basics.

Here are 5 tips to consider to ensure you choose a plan that will provide the best health care coverage, benefits, and customer experience possible.

1. Pick a plan that offers a health care comparison shopping tool. These tools will help you compare costs for procedures and show quality measures for various doctors in your area. For example, Regence BlueShield offers an integrated tool called HealthSparq. This seamlessly allows customers to comparison shop for health care services based on cost estimates, geographic location, and more.

2. Consider any procedures, treatments or prescriptions you or a family member might need in the next year. With this in mind, choose a plan that will best cover those costs. For instance, if you know you need a knee surgery or plan to have a baby, you may want to choose a plan with a lower deductible and/or out-of-pocket maximum.

3. Research plans and choose one that includes your preferred doctors. Do you have a favorite family doctor that you don't want to part with? Be sure to choose a health plan that provides in-network coverage with that doctor. This information is typically available on the health plan's website.

4. Call a customer service representative or your benefits provider. While this may seem obvious, these people are the experts and are often underutilized. They want to help you find the best health care option for you and your family so give them a call and ask away!

5. Don't wait until the last minute to enroll. Finding the right health plan takes time and research, so give yourself enough time to make the decision that best suits your needs.

To learn more visit Regence.com.
Subscribe
Recent posts
By Regence
August 11, 2017
The Mount Bachelor Sports Education Foundation (MBSEF) is an Oregon nonprofit standing in our own backyard. Each year, the community of Bend comes together to support MBSEF's amazing work with athletes through the Cascade Cycling Classic. The race is ...
By Regence
August 09, 2017
Grief can be a challenging process for anyone, but when a child is involved, it's all the more important to get the conversation right. Learn more about a new video resource for providers from The Dougy Center.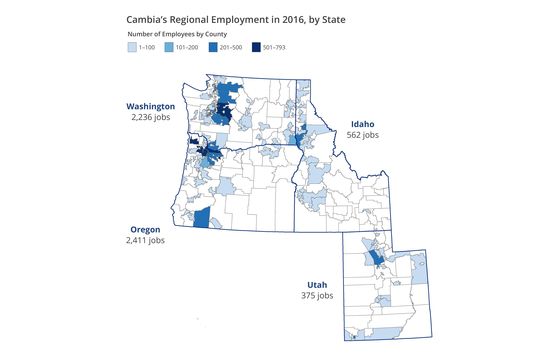 By Regence
August 08, 2017
Regence is excited to announce that it has retained the services of ECONorthwest, an independent economic consulting firm, to assess the effects our operations and employees have on the Oregon, Washington, Idaho and Utah economies.