Colorectal cancer: Our commitment to help reach 80% by 2018
Colorectal cancer (colon cancer) is the third most frequently diagnosed cancer and second most common cause of cancer death for both men and women. To combat this trend, the National Colorectal Cancer Roundtable (NCCRT), a national coalition of private, public, and voluntary organizations, vowed to achieve 80% of adults beginning at the age of 50 to be screened by 2018. What does this mean? The NCCRT predicted that by increasing screening rates to 80% by 2018, new colon cancer cases would be reduced by 17% and death rates by 19% by the end of 2020.
Quick facts about colon cancer:
1 in 3 adults between the ages of 50 and 75 are not up-to-date with recommended colorectal cancer screening
Nearly 132,700 individuals will be diagnosed in the United States
49,700 individuals will die from the disease
If a diagnosis happens during the localized stage, the 5 year survival rate is 90%.
39% of cases are diagnosed at this localized stage
If not detected until late stage, 5 year survival rates drops to less than 12%
Colorectal cancer treatment costs the U.S. $8.4 billion per year

If the health care community is able to support the NCCRT's goal of increasing colon cancer screening to 80% by 2018 in the United States, 280,000 new cancer cases and 200,00 cancer deaths could be averted within 20 years.
Regence stands with the NCCRT as they work to accomplish this goal of 80% by 2018. To showcase our commitment to this cause, Regence BlueShield's Director of Community and Business Relations and Washington State Representative Eric Pettigrew, recently introduced resolution HR 4615. This resolution was dedicated to his friend and former colleague Representative Roger Freeman.
HR 4615 addressed the significance of colorectal cancer screening as colon cancer is highly treatable with early detection. The Washington CARES About Cancer Partnership has initiated a year-round campaign for colorectal cancer awareness to help Washington reach the goal of 80% of age-eligible Washingtonians being regularly screened by 2018.
The resolution brought forward by Representative Pettigrew, seeks to designate March as Colorectal Cancer Awareness Month with the goal of increasing awareness and understanding of the importance and effectiveness of screening by all Washingtonians regardless of age, income, and insurance status.
This resolution was passed on April 2, 2015 and ran in conjunction with a proclamation from the Governor's office declaring March Colorectal Cancer Awareness Month.
Subscribe
Recent posts
By Regence
August 11, 2017
The Mount Bachelor Sports Education Foundation (MBSEF) is an Oregon nonprofit standing in our own backyard. Each year, the community of Bend comes together to support MBSEF's amazing work with athletes through the Cascade Cycling Classic. The race is ...
By Regence
August 09, 2017
Grief can be a challenging process for anyone, but when a child is involved, it's all the more important to get the conversation right. Learn more about a new video resource for providers from The Dougy Center.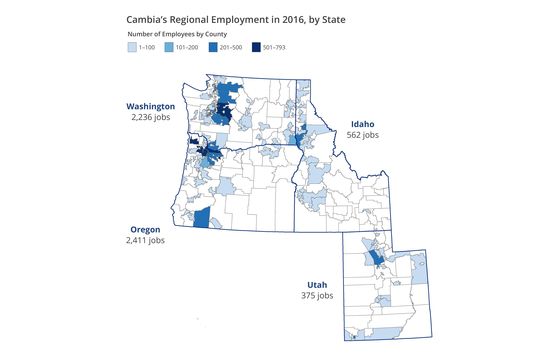 By Regence
August 08, 2017
Regence is excited to announce that it has retained the services of ECONorthwest, an independent economic consulting firm, to assess the effects our operations and employees have on the Oregon, Washington, Idaho and Utah economies.