Empowering providers to navigate cultural differences
Part of our mission to advance palliative care is provider outreach. We want to help providers serve our members through quality care driven by benefit support and education.
In September, we held a two-day training event, "Navigating Cultural Differences: Palliative Medicine Provider Education," in downtown Seattle. Dr. Benjamin Danielson, medical director of The Odessa Brown Children's Clinic, delivered a transformative two-part keynote on cultural humility and allowing cultural awareness to change providers' practice. Enrique Cerna of Washington Public Broadcasting's KCTS Channel 9 moderated the presentations of 10 cultural representatives and audience interactions.
Leslie Foren, Palliative Care Implementation Manager at Regence, shared where it all started, saying "We want providers to ask, 'What matters to you?' But listening to the answer takes courage and commitment. It's about showing respect, laying a foundation of trust and building bridges for use as a lifeline," she says. "We were inspired to create a conference for providers where they could learn directly from leaders of diverse communities about their cultural attitudes and approaches to palliative and end-of-life care."
"There were so many 'Aha!' moments," wrote one attendee. "I appreciate the encouragement to address uncomfortable situations with curiosity. This has been wonderful and enlightening."
Indra Neelameggham, representing Hindu-Indian culture, commented, "I cannot believe that an insurance company would do something like this. It's extraordinary. I hope it's just the beginning."
According to Michelle Schwartz, who leads Regence's diversity and university programs, Regence's commitment to be a leader in palliative care mirrors our commitment to diversity and inclusion. "We recognize that, at some point, all of us – employees, members and health care providers – will reach the end of our journeys. We believe providing culturally appropriate palliative care is essential for all members, from our youngest to our oldest. Helping to educate providers is a reflection of our organizational values and dedication to our members."
Subscribe
Recent posts
By Regence
August 11, 2017
The Mount Bachelor Sports Education Foundation (MBSEF) is an Oregon nonprofit standing in our own backyard. Each year, the community of Bend comes together to support MBSEF's amazing work with athletes through the Cascade Cycling Classic. The race is ...
By Regence
August 09, 2017
Grief can be a challenging process for anyone, but when a child is involved, it's all the more important to get the conversation right. Learn more about a new video resource for providers from The Dougy Center.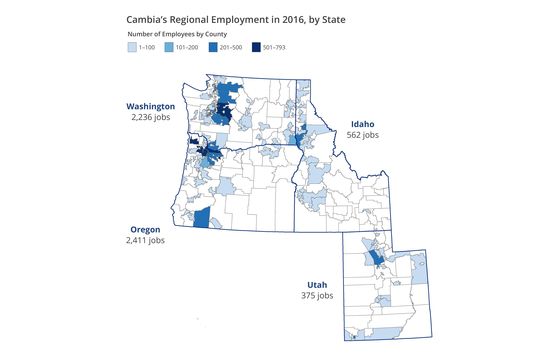 By Regence
August 08, 2017
Regence is excited to announce that it has retained the services of ECONorthwest, an independent economic consulting firm, to assess the effects our operations and employees have on the Oregon, Washington, Idaho and Utah economies.