Phishing – Don't get hooked
At Regence, we're committed to keeping personal information safe and secure. A number of phishing scams have hit the news lately, so we thought it was time for a quick refresher on how to keep your information safe.
Phishing is when someone tries to obtain your personal information by posing as a trustworthy source. If you get an email that looks like it's from your bank, or a phone call from someone claiming to be from your credit card or health insurance company, be wary. Never give out your personal information unless you are absolutely sure it's safe to do so. If you are unsure, contact the organization directly to check that it is a legitimate request.
What thieves want
Thieves are looking for your financial, tax and medical information, typically to gain access to your bank account. The 2016 Verizon Data Breach Investigations Report found 89 percent of data breaches had a financial or espionage motive. The damage they do can cost you time and money.
What you can do
The steps below are suggestions from the federal government and Verizon as simple ways to reduce your chances of being a victim.
Keep your Social Security card in a safe place. Do not keep it in your wallet or write your number on your checks. Only give out your SSN when absolutely necessary.
Protect your PIN. Never write a PIN on your credit or debit card. Avoid writing it on a slip of paper kept in your wallet.
Make sure people aren't looking over your shoulder at the grocery store or ATM. Use your free hand to shield the keypad.
Collect mail daily. Empty your mailbox every day. If you will be away from home for more than a day, ask the post office to put your mail on hold.
Pay attention to your billing cycles. If bills or financial statements are late, contact the sender.
Monitor your credit card statement. Keep your receipts or use a money-tracking app to monitor credit card activity. Ask for incorrect charge slips, and promptly compare receipts with account statements. Look for unauthorized transactions.
Shred old receipts, credit offers, account statements, expired cards and any documents showing personal information to prevent dumpster divers getting your information.
Store personal information in a safe place at home and at work. Don't leave it lying around; consider locking it up.
Don't respond to unsolicited requests for personal information in the mail, over the phone or online.
Don't open questionable emails, and don't click on links from unknown senders. If you don't know who the sender of an email is, delete the email. Look out for spelling and grammar mistakes. Do not open links or attachments from unfamiliar senders.
Install firewalls and virus-detection software on your home computer.
Check your credit report once a year. Under federal law you are entitled to a copy of your credit report annually from all three credit reporting agencies – Experian®, Equifax® and TransUnion® -- once every 12 months. If you think someone has accessed your account information, request your report immediately.
Remember, the most important thing you can do to protect your information is to be skeptical. Be careful when giving out personal information and opening questionable emails.
Subscribe
Recent posts
By Regence
August 11, 2017
The Mount Bachelor Sports Education Foundation (MBSEF) is an Oregon nonprofit standing in our own backyard. Each year, the community of Bend comes together to support MBSEF's amazing work with athletes through the Cascade Cycling Classic. The race is ...
By Regence
August 09, 2017
Grief can be a challenging process for anyone, but when a child is involved, it's all the more important to get the conversation right. Learn more about a new video resource for providers from The Dougy Center.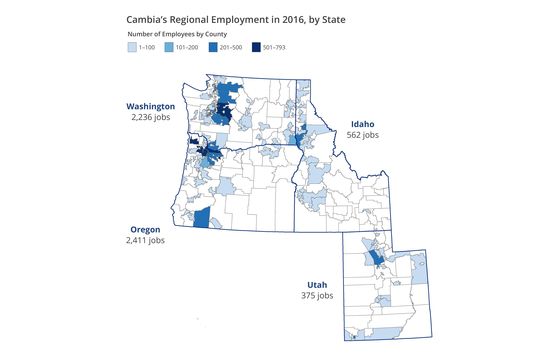 By Regence
August 08, 2017
Regence is excited to announce that it has retained the services of ECONorthwest, an independent economic consulting firm, to assess the effects our operations and employees have on the Oregon, Washington, Idaho and Utah economies.