Regence supports women's preventive breast health
Among the preventive health benefits for our members, Regence covers mammography at 100 percent for women. Additionally, we cover computer-assisted detection for those women who seek an extra level of screening for breast cancer.
Breast tomosynthesis is an emerging technology that uses extra X-rays with a mammogram to produce a 3D image. Providers are increasingly adding the software for these extra images to their existing mammography capabilities in order to offer members another form of screening.
However, scientific evidence does not show that this service offers any better overall health outcomes, and for that reason, Regence does not allow additional reimbursement to its contracted providers for this service. The Affordable Care Act (ACA) designates the U.S. Preventive Services Task Force (USPSTF) as the entity which determines whether services are to be covered as preventive. USPSTF states that the current evidence is insufficient to assess the benefits and harms of tomosynthesis as a primary screening method for breast cancer screening and does not recommend that breast tomosynthesis be covered as preventive.
We want to protect our members from pressure to get a service that is not shown to improve overall health outcomes. We cover mammograms at 100 percent, but do not reimburse contracted providers extra for performing breast tomosynthesis.
For more information:
http://blue.regence.com/trgmedpol/docs/cpsrad55.pdf
http://www.uspreventiveservicestaskforce.org/Page/Document/UpdateSummaryFinal/breast-cancer-screening1
http://www.uspreventiveservicestaskforce.org/Page/Name/grade-definitions#irec2
Subscribe
Recent posts
By Regence
August 11, 2017
The Mount Bachelor Sports Education Foundation (MBSEF) is an Oregon nonprofit standing in our own backyard. Each year, the community of Bend comes together to support MBSEF's amazing work with athletes through the Cascade Cycling Classic. The race is ...
By Regence
August 09, 2017
Grief can be a challenging process for anyone, but when a child is involved, it's all the more important to get the conversation right. Learn more about a new video resource for providers from The Dougy Center.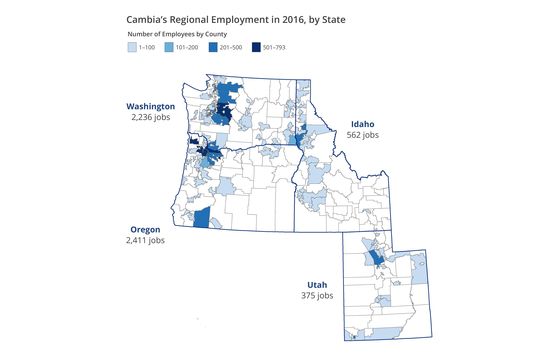 By Regence
August 08, 2017
Regence is excited to announce that it has retained the services of ECONorthwest, an independent economic consulting firm, to assess the effects our operations and employees have on the Oregon, Washington, Idaho and Utah economies.