Regence and Mercy Medical: Why we're taking a stand against rising health costs
To our Regence members,
Your health care dollars are precious. As your advocate, Regence works with local doctors, hospitals and pharmacies to get you the best value every day.
Now, an out of state company is trying to raise medical costs in Roseburg, Oregon. We believe these demands are out of step with the true cost of care in Roseburg – and as a result, Mercy Medical Center's Denver-based owners have chosen to terminate its contract with Regence.
Setting The Record Straight In Roseburg
We will continue to work hard to convince Mercy to keep health care affordable in Roseburg. However, there's a lot of misinformation out there, and we want to set the record straight.
To our Medicare members: You can still get care at Mercy hospital at the same in-network cost share through 2015 if you don't have an alternative hospital where you live -- regardless of whether we reach an agreement or not.
To our non-Medicare members: We are here for you, and will connect you to providers who are committed to keeping costs down.
Going forward, all Regence members can continue to go to Mercy hospital in an emergency.
We're Here To Answer Your Questions
Rest assured, we are here to help you navigate this transition so you can continue to access high quality, affordable care. If you have any questions, please call our knowledgeable Customer Service representatives at the number on the back of your Customer ID card.
We will do all we can to help you find the care you need, close to home.
Sincerely,
Angela Dowling
President, Regence BlueCross BlueShield of Oregon
Editor's Note: Regence and Mercy reached an agreement on December 22, 2014. Please read here for more.
Subscribe
Recent posts
By Regence
August 11, 2017
The Mount Bachelor Sports Education Foundation (MBSEF) is an Oregon nonprofit standing in our own backyard. Each year, the community of Bend comes together to support MBSEF's amazing work with athletes through the Cascade Cycling Classic. The race is ...
By Regence
August 09, 2017
Grief can be a challenging process for anyone, but when a child is involved, it's all the more important to get the conversation right. Learn more about a new video resource for providers from The Dougy Center.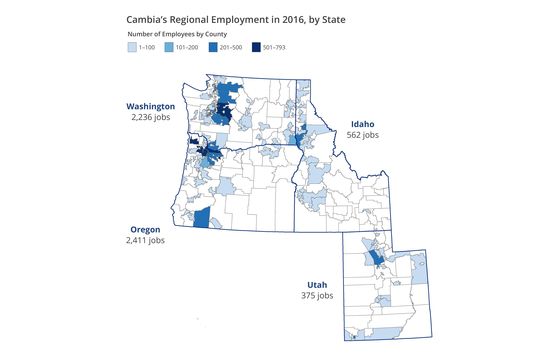 By Regence
August 08, 2017
Regence is excited to announce that it has retained the services of ECONorthwest, an independent economic consulting firm, to assess the effects our operations and employees have on the Oregon, Washington, Idaho and Utah economies.