The Bloom Project: A Rose Festival tradition
Have you ever wondered what happens to the thousands of flowers included in Rose Festival Grand Floral Parade floats? In 2017, the Portland Rose Festival partnered with The Bloom Project, a volunteer-driven nonprofit, as its official charity partner to continue a brilliant tradition of repurposing parade float flowers to create bright bouquets for local hospice and palliative care patients. As part of Regence BlueCross BlueShield of Oregon's participation in the Rose Festival, we captured a video featuring these efforts.
The Bloom Project has been giving the gift of fresh floral bouquets to these patients since 2007. Local businesses, community members and special events teams donate flowers and vases, which are then re-purposed to create bouquets, designed and delivered by volunteers to local hospice organizations. Hospice nursing staff, clergy, social workers and volunteers deliver the bouquets to patients in their home or care facility.
You can see the amazing work in action by following the journey of a single flower, from its initial selection and arrangement on a float, to its inclusion in a bright bouquet, delivered to its final destination, Legacy Hopewell House Hospice.
Regence was proud to continue this brilliant tradition with the Bloom Project at the 2017 Rose Festival. We look forward to the Rose Festival every year and all the joy it brings to our community. The Regence float, which was included in the annual Spirit Mountain Casino Grand Floral Parade on June 10, helped mark our 100-year anniversary, reflecting our humble beginnings and deep roots in the Pacific Northwest. Regence was honored to receive the Queens Award, for the most outstanding non-animated float in the 2017 Rose Festival Grand Floral parade.
Subscribe
Recent posts
By Regence
August 11, 2017
The Mount Bachelor Sports Education Foundation (MBSEF) is an Oregon nonprofit standing in our own backyard. Each year, the community of Bend comes together to support MBSEF's amazing work with athletes through the Cascade Cycling Classic. The race is ...
By Regence
August 09, 2017
Grief can be a challenging process for anyone, but when a child is involved, it's all the more important to get the conversation right. Learn more about a new video resource for providers from The Dougy Center.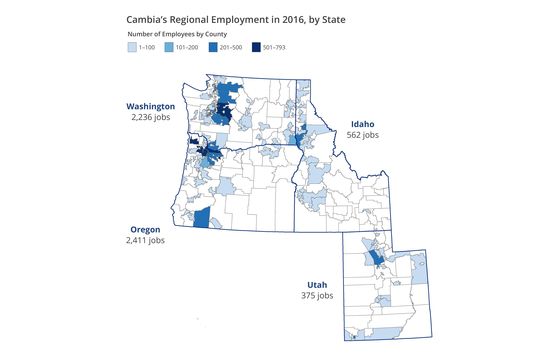 By Regence
August 08, 2017
Regence is excited to announce that it has retained the services of ECONorthwest, an independent economic consulting firm, to assess the effects our operations and employees have on the Oregon, Washington, Idaho and Utah economies.