What do we mean when we say Regence is nonprofit?
People are confused sometimes when we talk about our company as a nonprofit. I think a couple of reasons might be the common perception of a nonprofit (or, not for profit), and the word profit itself.
It's easy to think of nonprofits only as charities, like United Way or Red Cross – you often recognize them by their IRS designation as 501c3. But there are many types of nonprofits: political, religious, private research and more. They aren't charities, but they are not trying to make – or distribute – a profit.
Nonprofit does not mean absence of profit. Profit is the accounting term for the money left over after the bills are paid. Any nonprofit that ends in the red year after year is in danger of failing. Even nonprofits need a little profit to carry out their mission.
Our company was incorporated as a 501c4 nonprofit until the Tax Reform Act of 1986 made a special category for Blue plans as 501m corporations. We're still nonprofit, but now we pay taxes, filing the same federal tax form as for-profit companies. Our health plans in four states were responsible for paying taxes totalling $94.8 million for 2013, including $19.5 million federal income tax.
Some Blue plans became for-profits starting in the 1990s, but not Regence. Financial advantages and pressures convinced others to convert, but certain Blue plans in Oregon, Washington, Idaho and Utah chose a different route. We formed a regional alliance – Regence – to create a stronger company and to serve regional employers. And Regence made a conscious decision to remain nonprofit.
We choose to be nonprofit because our allegiance is to the members we serve. To fulfill our mission, we aim for a small profit from operations, just above the break-even point. Over the past decade, we averaged about 0.5% operational profit per year - that's one-half of one percent. It fluctuates year to year, but evens out right on target.
This small profit adds up to big security for our members: security that we will be here to pay their claims year after year; security to invest in better service and quality; security to face the unexpected – from pandemics to medical advancements – and still be here for their everyday needs.
Subscribe
Recent posts
By Regence
August 11, 2017
The Mount Bachelor Sports Education Foundation (MBSEF) is an Oregon nonprofit standing in our own backyard. Each year, the community of Bend comes together to support MBSEF's amazing work with athletes through the Cascade Cycling Classic. The race is ...
By Regence
August 09, 2017
Grief can be a challenging process for anyone, but when a child is involved, it's all the more important to get the conversation right. Learn more about a new video resource for providers from The Dougy Center.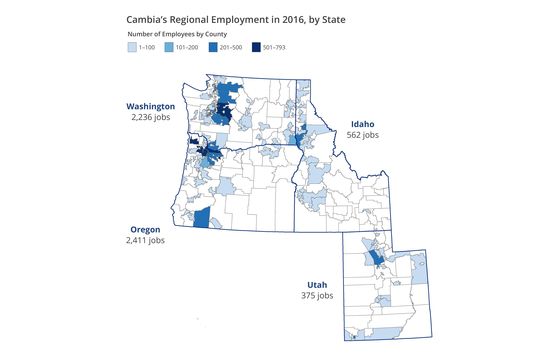 By Regence
August 08, 2017
Regence is excited to announce that it has retained the services of ECONorthwest, an independent economic consulting firm, to assess the effects our operations and employees have on the Oregon, Washington, Idaho and Utah economies.