Why we encourage our employees to volunteer in the community
Volunteerism is a core value of Regence's culture. In fact, last year Regence employees in Idaho, Oregon, Utah and Washington volunteered 7,125 hours for nonprofit organizations in their local communities. We believe that encouraging our employees to give back to their communities helps reinforce our non-for-profit status and makes for an inspired and productive workforce.
Cutting baseboards. Painting walls. Laying gravel. June 19 wasn't a typical day in the office for the 13 Regence employees who stepped away from their desks for a day of volunteering with Habitat for Humanity in Portland, Oregon. The team helped put the finishing touches on Trillium Court, a seven-home community that will soon be home to seven deserving families.
"I enjoy working for a company that supports and promotes community engagement," says Leah Martine, technical project manager at Regence. "I believe if more companies were as engaged as Regence, we would have a lot less need in the community."
Habitat for Humanity is an international nonprofit organization that helps make homeownership possible for hardworking, low-income families who are struggling to find affordable housing. Alongside volunteers and Habitat for Humanity staff, these families are required to dedicate 500 hours to help build the home, as well as make regular mortgage payments once moved in. Since 1981, Habitat for Humanity Portland/Metro East has provided nearly 300 homes to families in need.
One Regence employee who volunteered at Trillium Court even felt a personal connection to the cause. "The families who will live in Trillium Court will be my new neighbors, and I want them to feel welcomed so they'll love the area as much as I do," says Johanna Bettis, senior internal research analyst at Regence.
Volunteering for Habitat for Humanity reminded us that all it takes is a few hours to make an impact in someone's life. We encourage you to promote volunteerism in your workplace, as well.
To see photos from Regence's volunteer day with Habitat for Humanity, visit our Facebook album.
Subscribe
Recent posts
By Regence
August 11, 2017
The Mount Bachelor Sports Education Foundation (MBSEF) is an Oregon nonprofit standing in our own backyard. Each year, the community of Bend comes together to support MBSEF's amazing work with athletes through the Cascade Cycling Classic. The race is ...
By Regence
August 09, 2017
Grief can be a challenging process for anyone, but when a child is involved, it's all the more important to get the conversation right. Learn more about a new video resource for providers from The Dougy Center.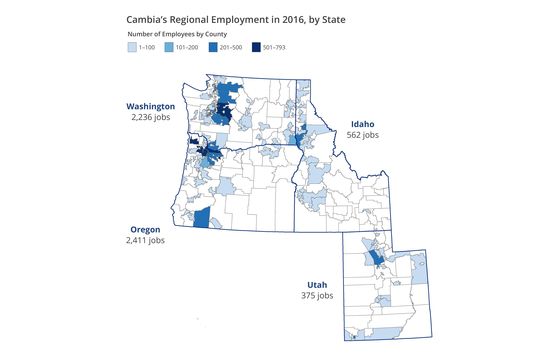 By Regence
August 08, 2017
Regence is excited to announce that it has retained the services of ECONorthwest, an independent economic consulting firm, to assess the effects our operations and employees have on the Oregon, Washington, Idaho and Utah economies.